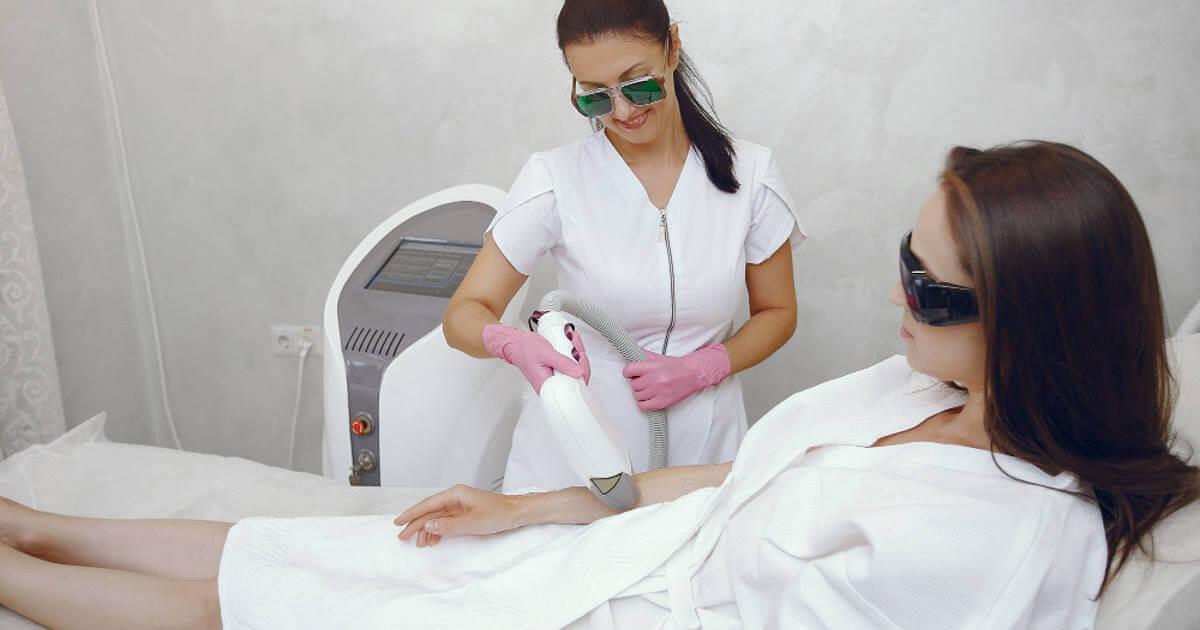 Laser Hair Removal : Should you try it?
If you are tired of regularly shaving your hair or done with the pain caused by waxing, Laser Hair Removal technique might be a definite cure to your unwanted hair worries. 
While the term laser hair removal sounds like a scary procedure to undergo, at Trichohom we ensure utmost safety and hygiene standards for our clients to avail a hassle free and effective laser hair removal treatment carried out by experienced professionals. 
This treatment has gained popularity over time owing to the fact that it is painless, fast and result oriented to the extent that it renders permanent hair reduction after a certain number of sessions and the re-growth rate of unwanted hair with laser hair removal is less compared to conventional hair removal painful methods like waxing.
What is Laser Hair Removal?
Laser hair removal is a medical procedure to remove hair by using a concentrated beam of light, also known as laser. The procedure is carried out by emitting the light from the laser into hair follicles, which absorbs this light and converts it into heat. 
The heat damages the hair follicles and stops or delays the growth of hair from the particular area. 
People often face unwanted hair growth in areas like legs, armpits, upper lip, chin and bikini line owing to which they don't wear certain kinds of clothes or often use makeup to cover up the same on their face. With laser hair removal it is possible to enjoy delayed and slow growth of these unwanted hair through a painless, harmless procedure.
Why do people opt for Laser Hair Removal?
Waxing, shaving and tweezing are age-old methods of hair removal and as much as we hate the pain and quick hair growth that comes with it, most of us have continued to practice the same. The aftermath of which is ingrown hair, irritation and rashes for most people. 
However, with the popularity and effective results of laser hair removal, many people have shifted to this method to reduce the growth of unwanted hair and to get rid of it.
With laser hair removal, people have seen a reduction in the number of hair in the treated area right after the procedure, which is a 10 to 25% reduction in unwanted hair growth right after the very first treatment. 
At Trichohom, our expert professionals ensure giving you proper disclosure of the treatment, the equipment used for the procedure and the number of sessions required. We believe in transparency and client satisfaction. 
Before the procedure:
After consulting with our doctor and choosing the appropriate treatment option for you, they will offer you specific instructions to follow or prepare before the procedure. These might include :-
Avoid exposure to the sun : Limit your exposure to the sun before and after the treatment. Apply a broad spectrum sunscreen with SPF 30 or more.
Avoiding other hair removal methods : Methods like plucking or waxing can disturb hair follicles and damage hair roots which are targeted by the laser.
Blood-thinning medications : Consult with your doctor about the medications to avoid prior to the treatment.
Laser Hair Removal Procedure:
There are certain instructions that are given by professionals prior to and post the completion of laser hair removal. Let's take a look at all the requisites of a laser hair removal procedure;
About the Procedure:
We take immense pride in providing the best care at Trichohom, hence, you will always be in the best hands for your laser hair removal. 
Let's take a look at the standard procedure for laser hair removal:
In certain laser hair removals, topical anaesthesia is applied to avoid any pain or discomfort during the treatment. This might be applied 20-30 minutes prior to the laser procedure and is recommended especially while treating sensitive areas like

the bikini line and underarm.

Once you are through with that, you will be given glasses to protect your eyes from the laser. The safety of our patients and staff is the topmost priority of Trichohom and we do not compromise on it. 

Afterwards, the laser settings on the equipment will be adjusted according to the location on the skin, thickness and colour. 

Finally, a cold gel will be applied or a cooling device would be used to protect the outer layer of the skin and minimize the side effects.
The time taken to complete the process varies from a few minutes to an hour depending on the location of the treatment area. 
Once the procedure is completed, an anti-inflammatory cream or an ice pack is given to ease any discomfort.
After the Procedure:
Laser hair removal doesn't need additional aftercare, however it is important to ensure that you apply sunscreen regularly for at least a month and avoid exposure to sunlight as much as possible. 
Even with facial laser hair removal, you can apply makeup just a few days after your treatment. 
It is possible that you might see some redness and swelling after the treatment like a mild sunburn but it isn't something to worry about, you can apply a cold compress to tackle your discomfort.
Once the procedure is completed, an anti-inflammatory cream or an ice pack is given to ease any discomfort.
Benefits of Laser Hair Removal:
Quicker and instant result – It is the quickest method to get rid of and stop the growth of unwanted hair. Most sessions only take a few minutes depending upon the side of the treatment area.
Less Painful –It is comparatively the least painful hair removal procedure out there.
Prevents Ingrown Hair –If you have faced the wrath of ingrown hair before, you know how irritating it can be. Fortunately, you never have to worry about them growing back on your body.
Precise and a long term solution –Laser Hair removal technology is incredibly precise and accurate and it can remove hair from almost any part of the body. Since it has a long lasting effect, it is also cost effective so you do not have to spend from your pocket for waxing trips or buying razors from time to time anymore.
Cost of laser hair removal:
The average cost of laser hair removal treatment in India ranges between Rs 2,000 to Rs 5,000 per session. The price varies due to multiple factors like hair density and texture, your skin type, type of laser, causes of hair growth, reputation of your clinic, the experience of the dermatologist and the city you are living in.
Laser Hair Removal is a medical procedure, which is not easy to perform specially when you don't have enough experience of the same. Before opting for this procedure, it is important that you thoroughly check the credentials of the doctor or the clinic you are about to visit. 
Laser hair removal can be harmful if you go to an inexperienced doctor and can often result in burns, permanent changes to your skin colour, and scars if highly experienced professionals don't carry out the procedure. 
When you choose Trichohom for laser hair removal, you significantly reduce the risk of possible side effects and avail the benefit treatment performed by highly experienced professionals who are exceptionally skilled in using lasers as well as have profound knowledge of the skin. 
This is what makes Trichohom the hub of all skin and hair treatments rendered safely and effectively to you with enriching results via our team of experts.