What is an Ozone High-Frequency Therapy for Acne?
A high-frequency clinical facial is a kind of skin treatment that assists to treat a number of skin problems including fine lines, acne, dark circles, wrinkles, and puffiness under the eyes. With the help of a safe and slight electrical current through a facial machine, the high-frequency facial has been successful to restore new cell growth and renewal while improving stubborn skin problems and giving an overall healthier appearance.
Benefits of High-Frequency Treatments for Acne
Reduces inflammation and redness

Safely kills bacteria that causes acne

Minimizes post-inflammatory hyperpigmentation (PIH)

Reduces acne and prevents future breakouts

Increases circulation

Contracts enlarged pores

Oxygenates the skin
---
High-frequency treatments are meant to kill bacteria and minimize inflammation, therefore the obvious acne-fighting benefits. The remedies improve circulation to stimulate collagen, making the treatment a successful anti-aging and glow-boosting tool, too.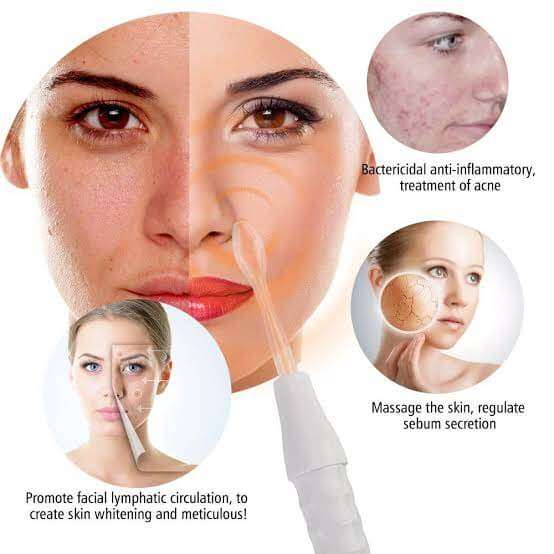 How to prepare for a High-Frequency Facial
For at-home treatment, professional dermatologists advise to always thoroughly clean the skin before the facial. You'll also need to refrain from using any retinoids for 5 to 7 days prior to the treatment and avoid harsh cosmetic products before a week.
More about Ozone Therapy treatment
Ozone therapy treatment is extremely helpful in fighting various types of skin issues which includes pimples as well as acne; it is also beneficial to remove scars. Generally, ozone skin treatment is using a localized blowing procedure with ozone and oxygen or saunas with ozone vapor that converts the skin to feel rich with ozone and could cure itself with the help of its ingredients.
It is a very impactful and efficient system of acne treatment with various advantages that disinfects the skin and assists in fast recovery from pimples and acne. As far as the results are concerned, while some forbearings feel almost immediate improvement with the help of this procedure, significant ease can take about 4 weeks after the treatment is done. Some patients continue to feel positive results over several months after the Ozone therapy treatment.
This treatment is also an anti-acne treatment in which Ozone therapy is performed so as to sterilize the skin. Additionally, an acne ointment is penetrated in the deeper skin layer that could assist in the fast recovery and is a definitely economical procedure when compared with other counterparts in the market that help in minimizing the impacts of acne, pimples, or its scars. It is performed in aesthetic centers under the strict observance of dermatologists by skin specialists who are trained in the Ozone therapy field for the face and neck. People looking for pimple-free skin must go for this treatment.