Pre and Post-Holi Skin and Haircare Tips
We all love Holi – the festival of colors!!!
It's the perfect time to have thandai, sweets and play with water balloons while dancing and enjoying with the family and friends.
Everyone loves playing Holi with water and most importantly, colors! But, we know that colors might contain harmful chemicals and agents that might lead to some harmful effects on our hair. These particles are called mica and they can collect on the scalp, creating harmful effects for your hair. Thus, while playing with colors, we might feel some itchiness on our skin and scalp.
So, this happiness of playing Holi comes with some of its own problems like parched & dry skin, fizzy & dry hair, pimples, and many other problems. Usually, everyone plays Holi during daytime which makes the problem worse because of the sun as it makes the skin tan. So because of all this, the hair becomes frizzy, dry & dull and skin also becomes dull & dry.
Here, we will suggest some Pre care steps for Holi which will protect you from all these problems. These tips will protect your skin and hair from harmful chemicals that cause irritation on your skin and scalp.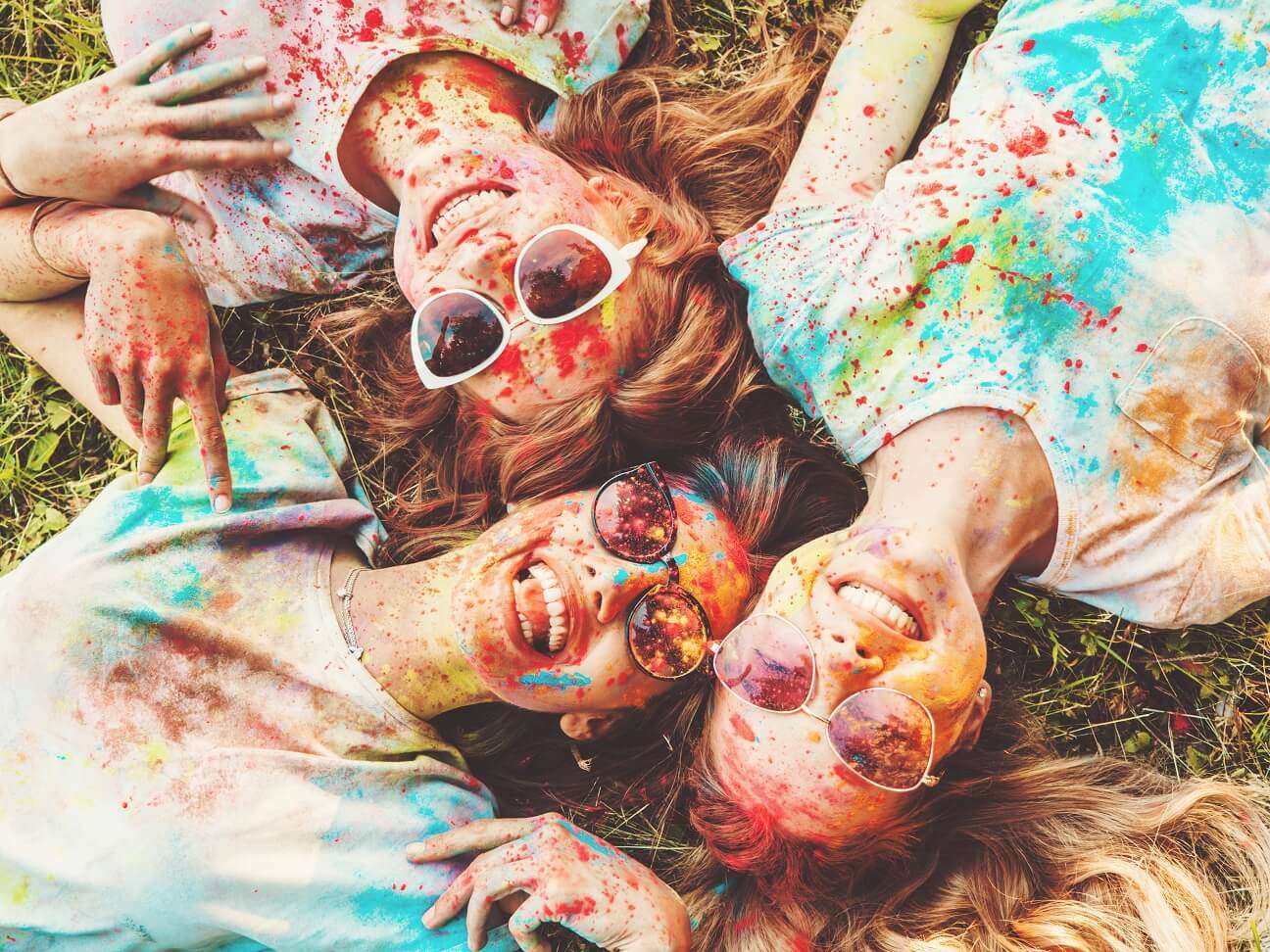 Holi: Simple home remedies for Skin and Haircare.
HAIR care tips:
Apply coconut oil on hair before going out to play Holi.

You can also protect your hair by applying a protective leave-in conditioner or hair serum before playing Holi.
SKIN care tips:
Apply sunscreen 20 minutes before playing holi in the sun and make sure that sunscreen is SPF 20 or above. If your skin is inclined to be pigmented patches then choose the sunscreen with the highest SPF. for dry skin, apply sunscreen first and then wait for a few min and then apply moisturizer.

Rub ice on face- It is suggested to close pores of your skin and make sure that colors don't get into your skin through these pores and creates breakage.

Apply nail paint on nails before playing so that the color can be easily removed later.

Protect your lips in advance by applying lip balm and vaseline.
Post care for Hair :
After playing with colors, be careful while washing your hair. To get rid of the dried colors and tiny mica particles, thoroughly rinse the hair with plain water first. Apply a gentle herbal shampoo after that. Gently massage the scalp and then completely rinse with cold or lukewarm water.

You can also use the lemon juice as a last rinse by mixing it with a mug of water. This helps your scalp to restore the acid-alkaline balance in the scalp.

Beer softens and conditions hair very well, so it can also be used as a final rinse. After shampooing the hair, mix beer and lemon juice and apply to the hair. After a few minutes, turn it off and rinse with plain water.

Hot water should be avoided and Ignoring the myth that warm water will help to remove colors is completely false as well make the situation worse, hot water will make color stick for a long time.
Post care for Skin:
Using cold water to clean the face is advisable.

Don't wash your face immediately with soap as it is alkaline and can make skin drier, instead of that use lotion or cleaning cream. Apply and massage lotion or cleaning cream on your face and then wipe it with moist cotton.

Clean the area around your eyes with a cleaning gel, as this gel perfectly dissolves the color and helps the color to be removed easily.

Home-made products can also be made by you, for making the home made product you can follow the following steps. Take half a cup of cold milk and add one tablespoon of vegetable oil and pour the cotton into that mixture and use it on your face to clean it.

Make use of papaya to remove the colors. You can mix papaya, Multani mitti, and honey to make a pack, and then you can apply on the parts where color is still present.

After playing holy we have to deal with sun tanning or dryness on the skin, to make sure that we can make a combination of honey, cude and turmeric. Apply this on the dry and tan skin and then you can wash it after 20 minutes. 

Avoid facial and bleach treatment for a couple of days as it will make the situation worse, as because of the chemicals in the colors your skin may have some cuts.

Don't use soap or face wash for removing color from your face.
Do let us know which of these remedies do you use on Holi to take care of your hair and skin.